The kitchen is a space used for more than food prep. The kitchen is also for eating and gathering, and with those activities comes a lot of necessary stuff. Because of everything you need to store in your kitchen, organizing the space can get overwhelming.
Simplify your kitchen organization by creating smart storage solutions. Follow the seven kitchen storage solutions below to regain control of your kitchen organization.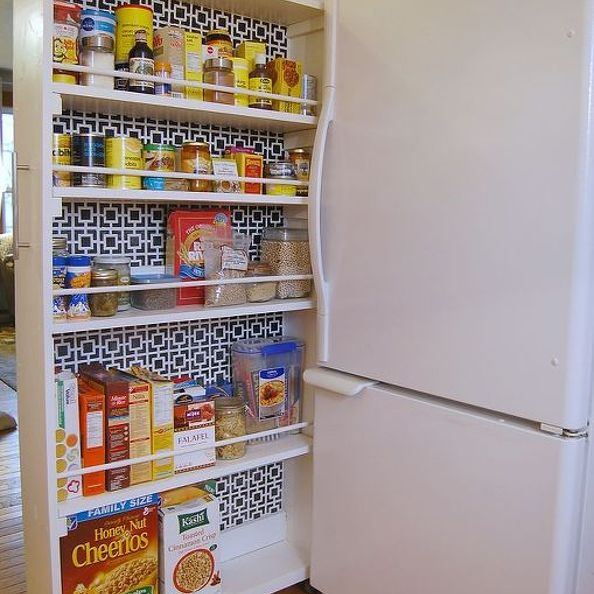 1. Think thin
It's ok to be narrow-minded with kitchen storage ideas when it comes to the thin space between your fridge and wall. This is a great spot to store goods such as canned foods. A can organizer for the space between your fridge and the wall can even become an at-home DIY project.
To make a free-standing cabinet for this space ideal for cans, Classy Clutter said the whole project (with all the materials) costs about $110.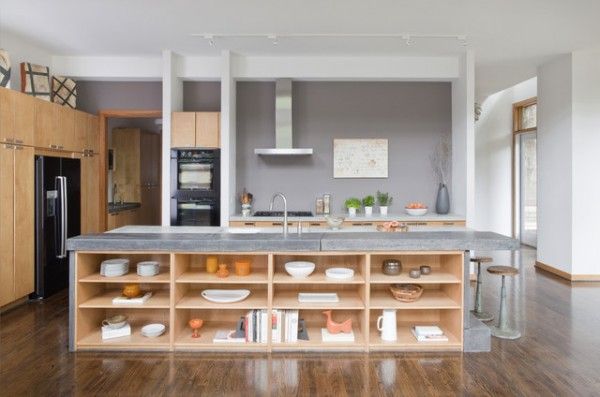 2. Be open
Open kitchen shelving is a hot trend right now. Open shelves help to open up a cramped space in your kitchen.
Also, consider choosing a hollow kitchen island if you don't already have one. Some islands look like an average kitchen island from the front but are hollow in the back for storage. Hollow kitchen islands are a great place to store cookbooks and other items you never seem to have space for.
You can also add a bit more tidiness to this space by adding storage boxes or compartments. This way, you won't lose anything at the back of the island!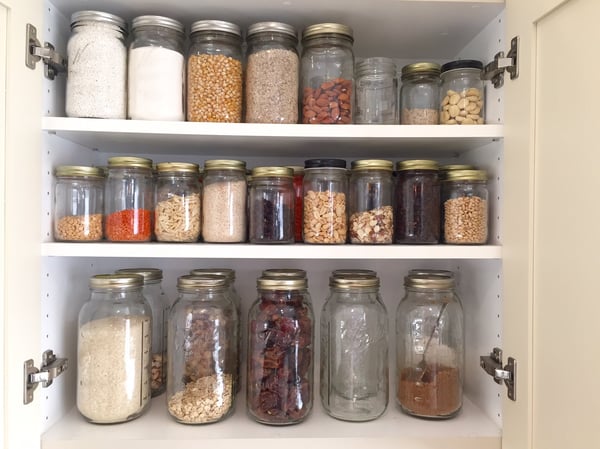 3. Clear things up
Use clear food storage in your pantry cabinet, kitchen hutch, or kitchen cabinets to keep things organized and easy to grab and use. Using clear food containers are perfect for spall spaces, as they let you locate your dry goods quickly. But, clear food storage doesn't have to be boring.
You can get crafty with jars by using etching cream to label the storage containers with different goods inside. Clear jars make rummaging through cluttered cabinets a thing of the past, and putting a label on each container makes it even easier kitchen storage.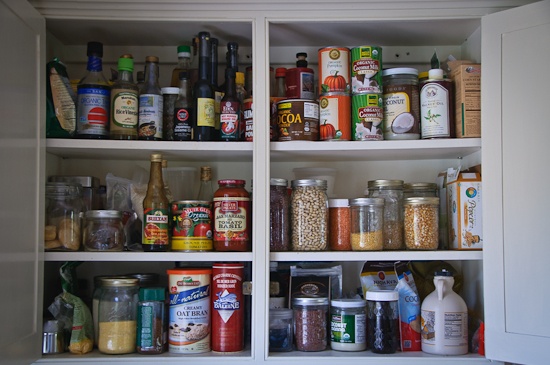 4. Use every inch
To optimize kitchen storage, don't leave any space unused. For instance, the space below your sink and above the floor cabinets is probably currently unused. However, you can put this space to use and enhance kitchen organization by creating a tilt down drawer for your sink. This is a great way to store sponges and knickknacks you need while washing dishes or that would otherwise take up valuable space on kitchen counters.
Other forgotten space you can take advantage of is the side of your lower kitchen cabinets. Here, you can hang more heavy and clunky items such as pots, pans, wooden chopping blocks, colanders, and anything else annoying to store within the cabinets.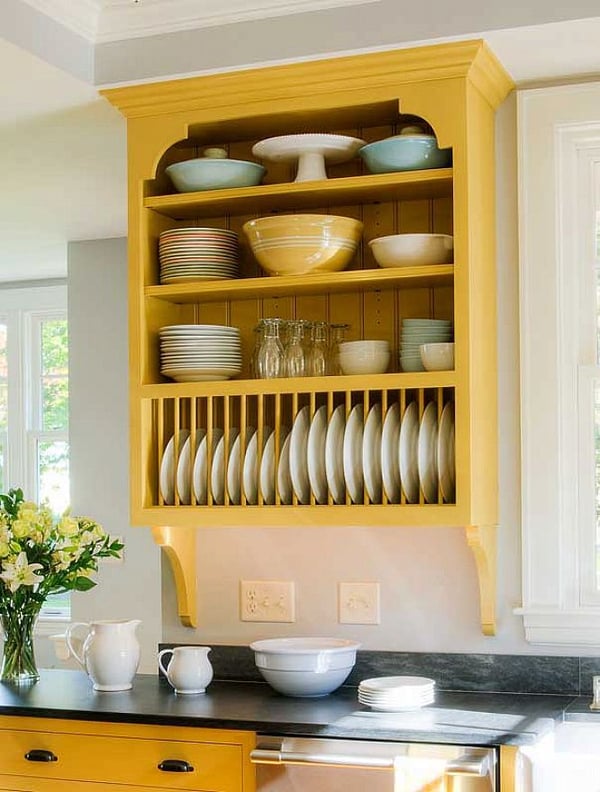 5. Go vertical
Kitchen cabinet and kitchen drawer space can fill up pretty quickly. Especially in smaller kitchens, kitchen storage space may be limited. So, get smart and make use of all space, including vertical space in your kitchen. Consider hanging large utensils that currently take up precious drawer space.
Also, take advantage of the space above your kitchen stove. You can place a kitchen shelf above the stove and store pots and pans and other cooking utensils you need easily on-hand. You can also think vertically for your plate storage. Add a plate wall rack to your wall to show off your nicest plates while also keeping them out of the way.
Small shipping pallets also offer a great foundation for a spice rack, small bottles, hooks, and even knives when you add a metallic strip.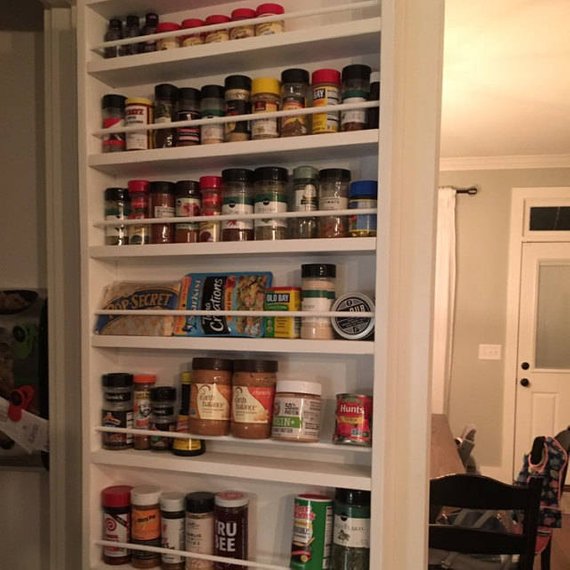 6. Show kitchen goods to the door
Stow kitchen goods you want out of the way on the inside of cabinet doors. For instance, use a magazine file to hide plastic wrap and aluminum foil boxes. Or hang a spice rack to the inside of the door.
Get thrifty by finding all kinds of organizers to mount to the wall to hold various items and necessities. For example, if you're storing Tupperware and containers in one cabinet, store the lids in an organizer on the door to avoid losing lids and having a mess in your cabinets.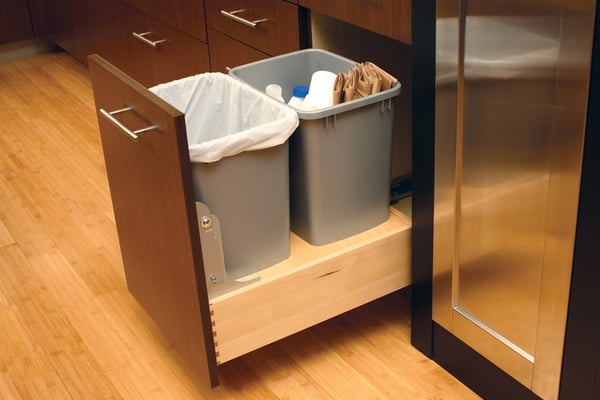 7. Pull out all the stops
There are plenty of ways to incorporate extra pullout drawers and storage in your kitchen. For example, you can install a drawer in the space below your sink. The usually deep cabinet can collect all kinds of things and sometimes seem to end up looking like a bottomless pit. Instead, go for the easy solution of adding a drawer. This will keep cleaning supplies visible and easily at hand.
Pullout trash cans are also a popular option among homeowners looking for optimal kitchen storage. Hiding away unattractive trash bins will clear up floor space and keep smells away. If the pullout drawer is big enough for more than just your trashcan, you can also keep trash bags stored in the drawer as well.
---
If you're looking for kitchen changes that can make a big difference, begin with kitchen storage and organization. Then, head to your nearby Vague & Vogue showroom for all the other kitchen necessities you need to personalize your kitchen.