Your kitchen cabinets hold some of the most important elements of your kitchen. From plates to coffee mugs and everything in between, these cabinets see a lot. But what if there was a way to get rid of your upper cabinets to create a more minimalistic space? Would you go for it?
If you want to cut down on clutter in your kitchen, your upper cabinets will likely be the one of the first cuts. These cabinets can make a kitchen feel smaller, especially if you have a galley or otherwise small kitchen.
In this post, we'll walk through the different options for replacing your upper cabinets. In the end, you might find it worthwhile to cut out the cabinets and make room for simpler storage.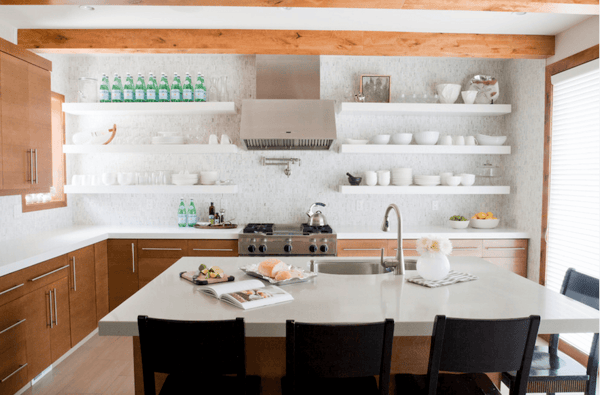 1. Open Shelving
Does your kitchen feel a bit confining? Even if you have a large kitchen, upper cabinets can make it feel constricted or small. But if you remove your overhead storage, where are you going to put your cups and plates?
One solution is to install shelves to introduce open storage into your kitchen. With open shelving, you will need to be disciplined about your organization, but it can open up a space. This style is common in farmhouse kitchens, and is a great way to display your beautiful dinnerware.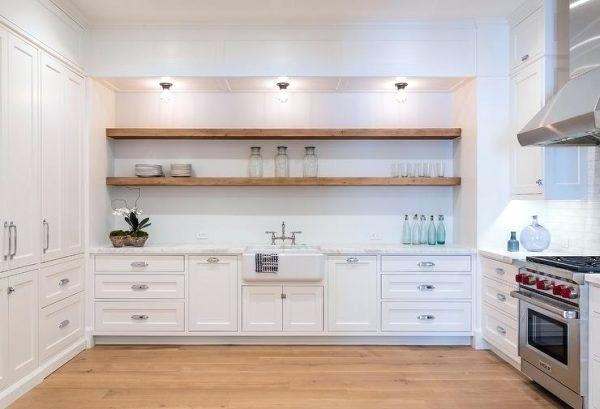 2. Stacked Cabinets
If you'd rather have empty space above your counters, consider a pantry area or stacked cabinets. A pantry is great if you have the room to add a small room off of your kitchen. You can use pantry cabinets to store baking essentials, non-perishables, and even cookware!
But if space is limited, you can stack cabinets in the place of one cabinet section. Use this space to store anything you don't want on your counters, like plates, cups, small appliances, and more.
You can also use cabinets to create definition between your kitchen and dining room. Instead of using a hutch to store your fine dishes in the dining room, use open shelving or glass doored cabinets to complete the room. This will also provide you extra space to decorate or serve dishes while entertaining.
But once you've taken your kitchen cabinets off the walls, what do you do with the lower units?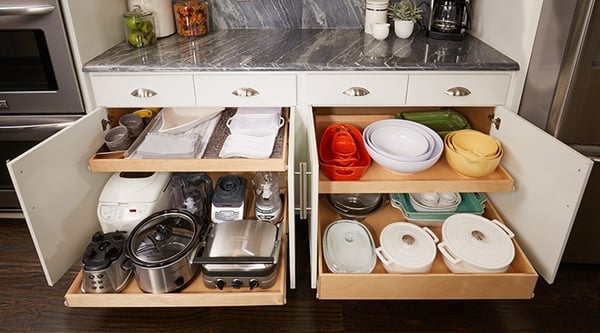 3. Pull-Out Shelving
Do you ever put a pan away in your cabinets, only to lose track of it a week later? Without pull-out shelving, that will likely keep happening to you.
You may also struggle with the common issue of only using the front part of your cabinets. Many people will only place items close to the door of their cabinets, as anything past that can get lost or damaged.
Installing pull-out shelves in your kitchen is the best way to get the most of your existing space. These lower cabinets are large drawers that you can store plates, cookware, pantry items, and more.
Pull-out shelves or drawers will add a European elegance to your kitchen. They will also help to keep your belongings organized. You can buy special accessories that will keep everything lined up straight.
You will often see shaker style cabinet drawers, but this is not the only option available. If you'd like to spend a bit more, you can go for custom cabinetry. This option will ensure that all your needs are taken care of.
This is especially important for the lids that go along with your pots and pans. Stacking lids upright will save you the stress (and noise) of digging around the find the right one.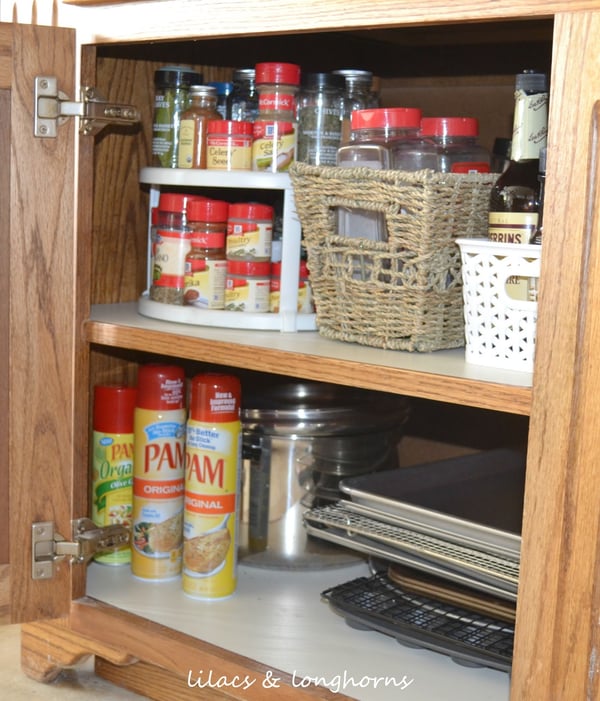 4. Low-Cost Organizers
If you're not looking to switch out your lower cabinets for drawers, pick up some kitchen organizers from the store. You will be able to find different options that you can mix and match to outfit your lower cabinets. This is a more cost-effective solution to your storage issues, and can be just as effective.
Many people store their spices and seasonings in their cabinets or on the counter. Instead, invest in a pull-out spice rack or drawer organizer and move your spices below the counter.
Extra cabinets are handy, but not essential for kitchen storage. With a bit of creativity, you can get rid of your upper cabinets and go for a more minimalist approach.
Are you ready to take on a kitchen renovation? Stop by your local Vague & Vogue showroom to discuss your plans with one of our expert consultants. Our team will be happy to help you make the right decision for your home and family.