One of the first things you notice when you walk into a kitchen is the kitchen countertops. Are they run-down and dingy, or are they looking brand new? Do the colours match of the rest of the kitchen, or do the countertops throw off the look? Is the material on-theme, or is it out of place?
There are several factors to consider when picking out kitchen countertops so that you personalize your kitchen in the right way with the right counters. Keep reading for everything you need to know about different kinds of kitchen countertops.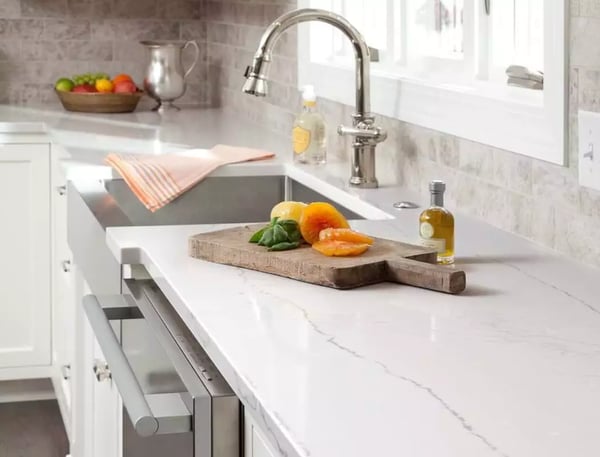 1. Quartz countertops
Quartz countertops are also known as engineered stone countertops. These countertops are a man-made engineered stone that combines 90 percent ground quartz with 8 to 10 percent resins, polymers, and pigments. Together, these materials form a very hard granite-like surface, which works well as a kitchen counter.
The appearance of quartz countertops varies, depending on the grind of the materials within. For instance, coarsely ground quartz will create a flecked appearance. On the other hand, more finely ground quartz will result in a smoother look.
While quartz is extremely hard and durable, making for great countertop surfaces, it is also expensive and doesn't tolerate heat. Quartz countertops have a glossy sheen and are non-porous and crack resistant. However, seams are inevitable for large kitchen counter designs, so keep that in mind when deciding on your next kitchen countertop material.
Quartz countertops range in price from $60 to $100 per square foot.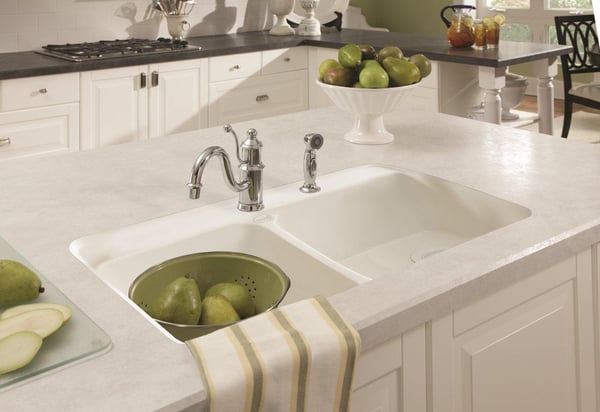 2. Laminate countertops
For a lower-cost option, consider laminate countertops. Laminate counters are made from layers of plaster that are bonded to particleboard. These countertops come in a wide variety of colours, textures, and patterns.
Laminate is one of the most affordable materials available for kitchen countertops, and can cost between $25 to $75 per square foot. Unfortunately, laminate is not as durable as other countertop materials, which is a trade-off you make for a lower cost. Laminate is susceptible to damage and is not easily repairable.
Laminate countertops are essentially four sheets of kraft paper pressed together, and then coated with a permanent seal. Once there is damage done to that seal, you will see the material underneath. Because of this, you cannot repair or reseal laminate counters, and you will need to replace it if the damage is extensive enough.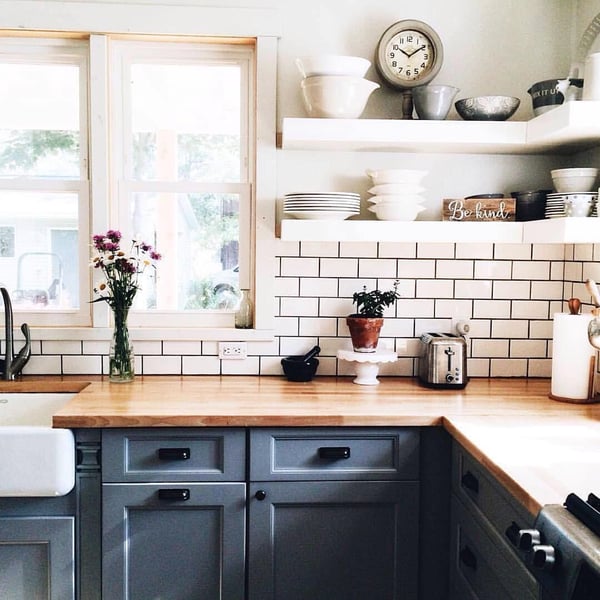 3. Butcher block countertops
Butcher block countertops are warm and accommodating while also an affordable option for kitchen counters. Made from straight cuts of wood glued together into thick slabs, butcher block countertops provide a sturdy and stable work surface for kitchen prep. Most wood countertops are made from maple, oak, cherry, walnut, and teak with maple being the most popular.
When choosing these countertops for your kitchen, take the thickness and edges, grain types, and maintenance into consideration. The three basic construction styles of butcher block include edge grain, face grain, and end grain.
Edge grain has the edges of the boards in an upright position to form a light work surface. Face grain, also called "plank grain" has planks adhered together with the wide surface position upright, showcasing the beauty of the wood grain. Lastly, end grain positions the ends of the boards upward to form a distinctive checkerboard appearance.
According to Home Advisor, the prices for butcher block range from $1,710 to $5,000, with $3,075 being the average national price.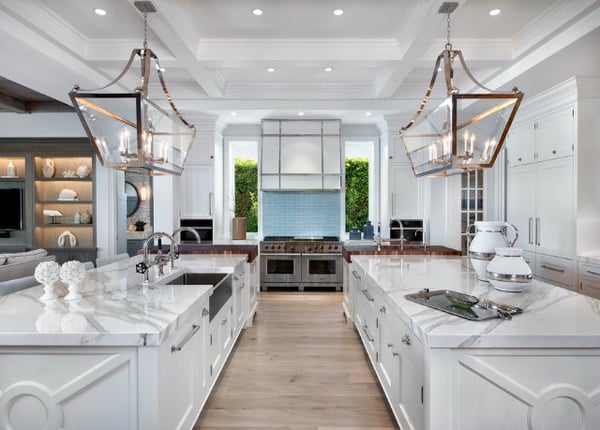 4. Marble countertops
Marble is a metamorphic stone, which is formed when sediment crystallizes under a large amount of heat or pressure then forming hard rock, Apartment Therapy says. Although marble countertops will not be as hard as granite countertops, marble is still a solid and sturdy surface. However, marble is porous, which means it's susceptible to staining.
Since marble surfaces are formed out of calcium carbonate, it has a chemical structure that easily reacts to acids and leads on the surface. Because of these reasons, some upkeep is required to keep marble countertops looking their best.
Marble has two main types of finishes that are available for kitchen countertops. These include a honed finish and a polished finish. A honed surface is a sanded surface that has a soft, matte finish. It won't show as many scratches as a polished finish will. A polished finish has a shiny exterior, and won't stain as easily as a honed marble. However, polished marble scratches much easier.
According to CounterTop Guides, marble countertops will cost between $75 and $250 per square foot.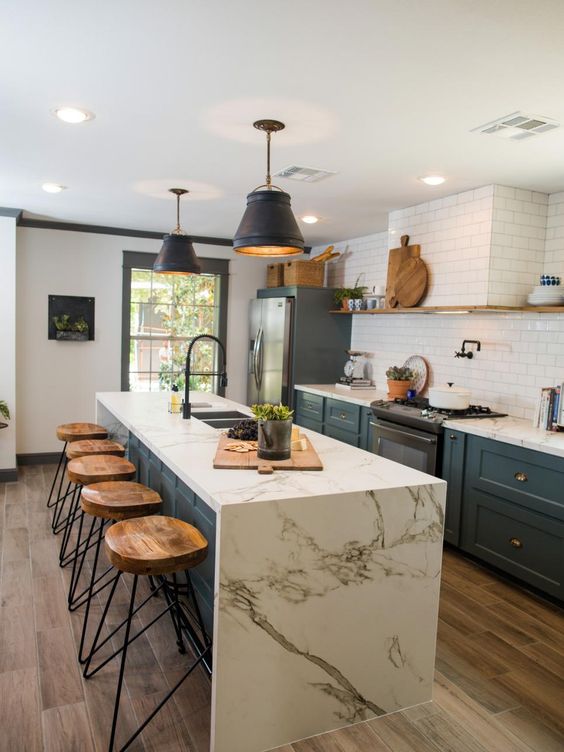 5. Waterfall countertops
Want to truly set your kitchen apart from the rest? Consider installing waterfall edge countertops. Unlike typical counters, these countertops don't stop at the edge of your cabinets. Instead, they drop vertically down the sides of your cabinets and straight to the ground. With waterfall counters, you can create a continuous flow to the floor.
The main purpose of having waterfall countertops is their classy appearance. Usually, they're crafted from beautiful and high-quality materials such as marble, granite, quartz, or travertine. However, concrete and wood are also available options for waterfall countertops.
Pricing for your waterfall countertops will vary in general depending on the material you use.
---
If you're preparing for a kitchen remodelling project, one of the first things you'll want to do is decide on the kitchen countertop material you'll use.
Now that you have all the info you need on kitchen countertops, head to your nearby Vague & Vogue showroom to get the rest of the things you need to be renovation ready or to chat with one of our industry professionals.