Galley kitchen designs all have a few things in common, starting with their layout. If you see a kitchen that takes up two parallel walls of a narrow passage, it is called a galley. One wall of a galley kitchen usually houses the appliances (stove, microwave, etc.). You will also find storage spaces on this side of the kitchen.
On the opposite wall, you'll likely find the kitchen sink and other cleaning fixtures. There will also be more storage on this side of the galley. If the space is large enough, you could find a kitchen island between the two walls. However, this is most often missing from a narrow kitchen.
If you want to make your galley kitchen feel larger, you'll want to keep reading! We'll help you transform your narrow space into an open kitchen without moving any walls or doing demolition. These simple changes can make a huge difference in how the room looks and feels.
4 Ways to Make Your Galley Kitchen Feel More Spacious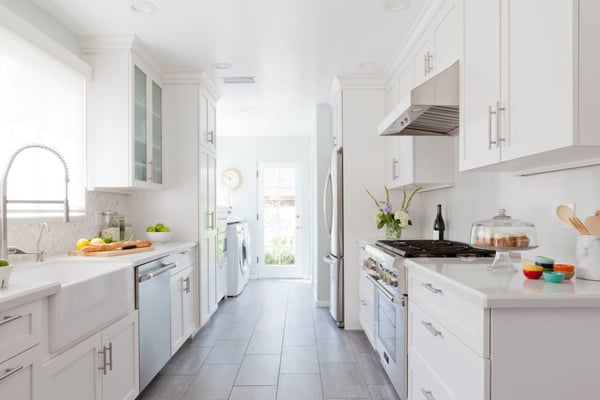 1. Lighten up the space
Smaller kitchen floor plans often need all the help they can get to appear larger and more spacious. Since they can feel quite tiny and cramped, it's important to use light and design to open up the space.
To begin making your galley kitchen feel larger, start by lightening up the space. Lighting is imperative in small kitchen layouts, as the right lights will make the space feel bigger.
Of course, adding light to a small kitchen calls for making the most of any natural light coming into the space. If you have bulky curtains over a window, switch them for a lighter material, or simple blinds.
If you'd like to add even more light to the space, consider under-cabinet lighting or a new ceiling light. You'll find lights that will work under kitchen cabinets at most hardware stores, and there are even some options that are battery powered. This means no more unplugging lights when you need to use a hand mixer!
To further lighten up your kitchen, use the colour white as much as possible. Natural and artificial light will bounce off a bright white surfaces, creating the illusion of a larger room.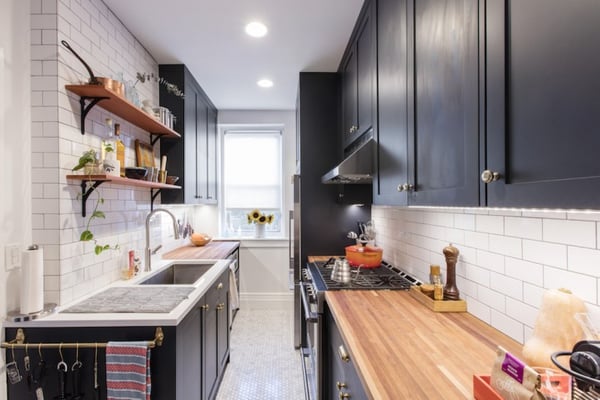 2. Be open to open shelving
As you can imagine, bulky upper cabinets can make a kitchen feel much smaller than it is. Instead of getting rid of your storage space, consider installing open shelving.
Open shelves help to reduce visual weight and make you think the space is much larger than it is. Open shelving in any kitchen will bring all kinds of added benefits, such as convenience. Open shelves placed above the cooking space that hold your essentials will make a welcome addition to your cooking routine.
Use your open shelving to make a design statement! Display your favourite artwork or dishes on open shelves. However, if you choose to go this route, you'll want to keep the shelves free of clutter. Try not to overload any shelves with too many dishes or items.
To open up the storage in your kitchen, you can either replace your upper cabinets with new, clean shelves. If you'd like to keep the costs down, you can remove your cupboard doors and work with the existing shelves!
If you can't remove the cupboard doors or live in a rental unit, you can still make the most of the space you have! Think outside the box and use metal racks, hooks, or pegboards to add easy access storage.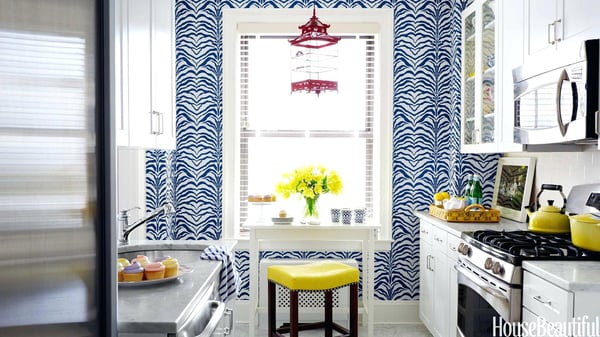 3. Paint or pattern the walls
Kitchen floor plans that are smaller or more narrow than most can greatly benefit from a new paint job or even wallpaper. For example, painting the cabinets in your kitchen the same colour as the walls will erase visual boundaries that can stop the eye, Houzz says.
If you'd rather separate your cabinets from your walls, choose a pastel colour like light blue. Painting the cabinets and cupboards a pale colour will help reflect light and make your kitchen feel bigger. For a more daring look, consider a deeper tone like navy or charcoal. Darker colours recede visually, creating the impression that the kitchen walls are farther back than they actually are.
If plain walls are just plain boring to you, add patterns to your walls. Wallpaper is a great option for creating an accent wall or for covering several walls. Patterned walls and or floors will create an optical illusion in a small or narrow kitchen.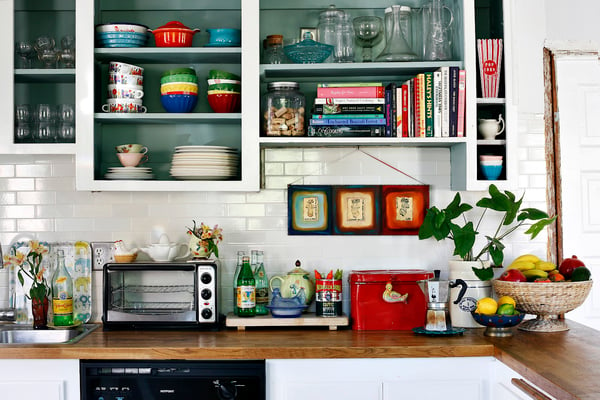 4. Ditch unnecessary items or objects
Finally, to make your galley kitchen feel larger, keep it clutter-free. This is a necessity for making any space in your home feel bigger. So, remove appliances that rarely see any use, dishes that can be dumped, and other kitchen items that take up valuable space on your kitchen countertop.
---
Now that you're ready to make a galley kitchen feel larger, think about your small bathroom. Whether you have an apartment, a small condo, or perhaps just a house bathroom that is littler than most, our team can help you create a stylish tiny bathroom.
Head to your local Vague & Vogue showroom to get started on upgrading your kitchen and bathrooms today!