The kitchen is no longer only used for cooking. Depending on its size, there might be space for a breakfast bar or a kitchen island. Both serve as gathering spots for friends and family. People drift into the kitchen area when delicious smells emanate; there is the promise of something delicious cooking. And the kitchen can be a place where people work, make projects, the kids do their homework, and loved ones talk on the phone or the computer with others far away.
To update your kitchen decor and create a cozier space, you might want to consider going with a farmhouse theme. This does not mean the end result will be super rustic, rather using some of the following design ideas can help create a warm and welcoming area. To create a farmhouse kitchen, incorporate the six elements below:
1. Rustic cabinets
For rustic kitchen cabinets that will look perfect in your space, consider using soft colours. For instance, try pairing light blue kitchen cabinets with a white farmhouse sink—this will surely allow your sink to shine. Or, try white kitchen cabinets with dark countertops.
While there aren't any set rules regarding farmhouse colours, a popular palette seen in these kitchens use a combination of white, black, and natural wood tones. For this reason, you may want to use black and white cabinets along with other wooden features.
Another option for rustic cabinets is to use simple shaker cabinets, vintage kitchen cabinets, adding glass doors or panels to your cabinets to see the dishes within.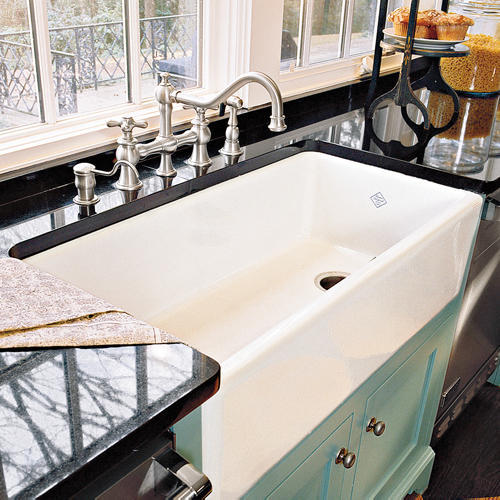 2. Farmhouse sink
According to Stone Gable, a home decor and improvement blog, a farmhouse kitchen will generally have a large, open sink, as a nod to the time when great quantities of food were prepared from scratch at home. Those who are serious about cooking appreciate the practicality that a farmhouse sink provides for a kitchen. Countertops are easy to clean, as you can simply brush crumbs and wipe other liquid or food debris directly into the sink.
A classic white farmhouse sink makes a great addition to any kitchen, especially those that are farmhouse-style. Or, for a more upscale or renovated country kitchen, try incorporating a shiny stainless steel farmhouse sink and appliances for a modern flair.
Installing a large kitchen sink is quite a project, but if you have questions, bring those to the professionals at your Vague and Vogue showroom.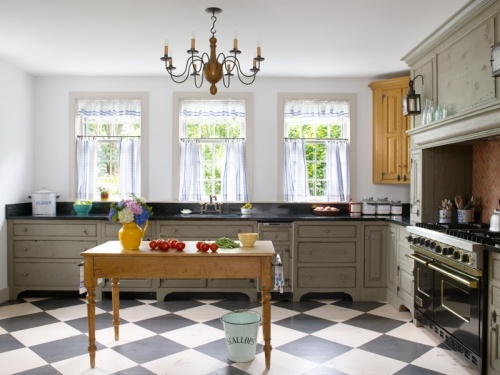 3. Classic flooring
Classic farmhouse flooring seen in farmhouse and cottage kitchens is usually wooden. However, you're not limited to just wooden flooring in your kitchen. Other common options include black and white tiles or checkered linoleum.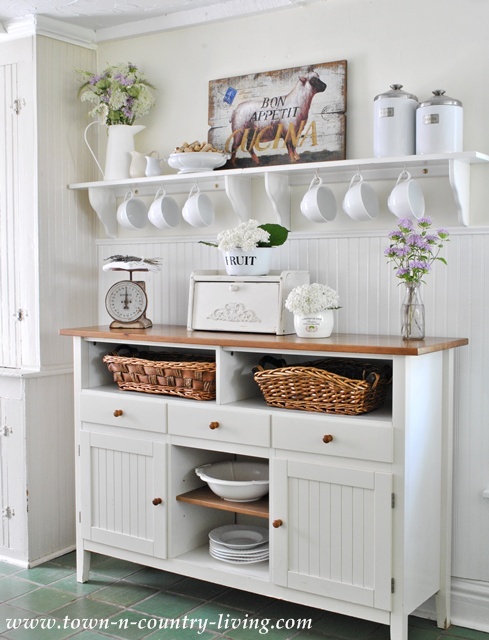 4. Freestanding furniture
For a farmhouse kitchen, freestanding furniture pieces are preferable over built-in furniture pieces. Built-in pieces are usually more suitable for modern and contemporary interiors, so for a rustic kitchen, look for furniture that at least has the appearance that it's freestanding.
Since freestanding furniture pieces take up more space, to solve this issue, go for a built-in cabinet that has furniture-style detailing, such as bun feet, HomedIt suggests. Then, to make these features stand out, choose a colour that contrasts with the rest of the furniture.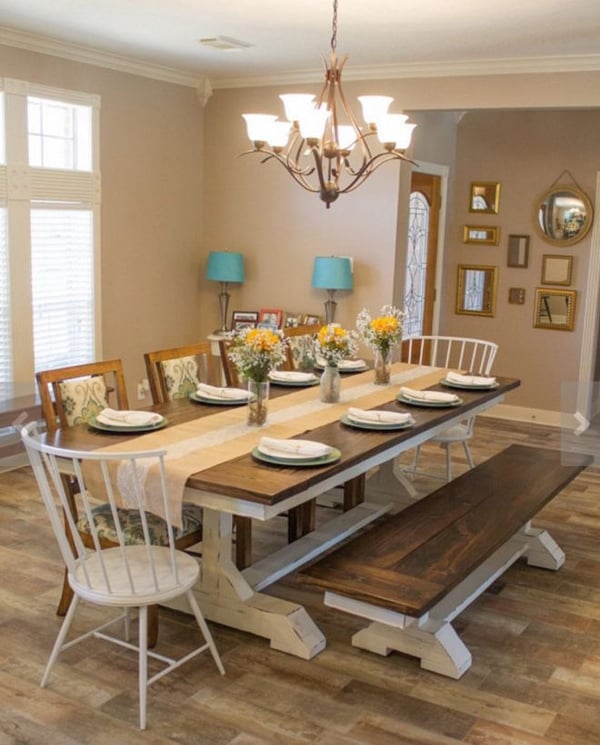 5. Large kitchen table
Rather than invest in a kitchen island, The Cottage Market highlights one kitchen with a rustic, large wood table at its centre. The table can be slightly higher than a dining table, and you can add wooden or metal stools for seating. This way, you include the old-fashioned element, further enhancing the farmhouse feel, but also have a functional piece of furniture and gathering spot.
Although small and sleek pieces of furniture are usually used in modern interiors, for a farmhouse space, a big dining table is an ideal option. If you have a small kitchen and don't have the room for such a table, purchase an expandable table. And, look for tables that are wooden.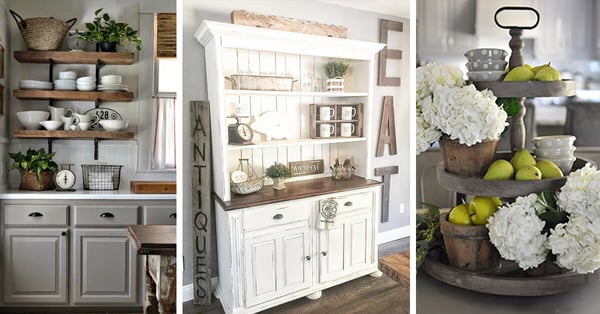 6. Natural decorations & personal touches
The essence to nailing the theme for a farmhouse kitchen is in the small, personal touches, like hand-painted kitchen cabinets, homemade curtains, bright open windows and steel, matte appliances and finishes says Better Homes & Gardens. Unusual conversation pieces can give the kitchen a homey, personal feel as well.
To add to a feeling of comfort in your rustic kitchen, decorate with natural elements. For instance, use wooden trays, wood chopping boards, a wood knife block and classic, blue and white towels and rugs. Better Homes & Gardens even suggests using a lampshade made from weathered metal basket turned upside-down and finished.
Lastly, add vintage accent features, as small details are important in any kitchen theme. Choose vintage and old-fashioned elements such as pottery or antique hardware or vintage lighting, HomedIt recommends. The use of reclaimed wood beams or exposed ceilings adds rustic, old-fashioned touches as well.
---
For more inspiration or for help creating your farmhouse kitchen, head to your nearby Vague & Vogue showroom. Our industry professionals will be able to help you select the right features for your new or upgraded kitchen.