Nostalgia for past decades will never go out of style. There are stores dedicated to vintage decor, clothing lines that give a nod to the 1950s, and plenty of inspiration available if you want to bring vintage style into your home.
The kitchen is often considered the "heart" of the home. It's a great room to transform with vintage elements. Want to give your kitchen a vintage vibe? Check out our ideas below to get some inspiration. From new lighting and kitchen fixtures to a full renovation, any element can help make it feel like your kitchen has gone back in time.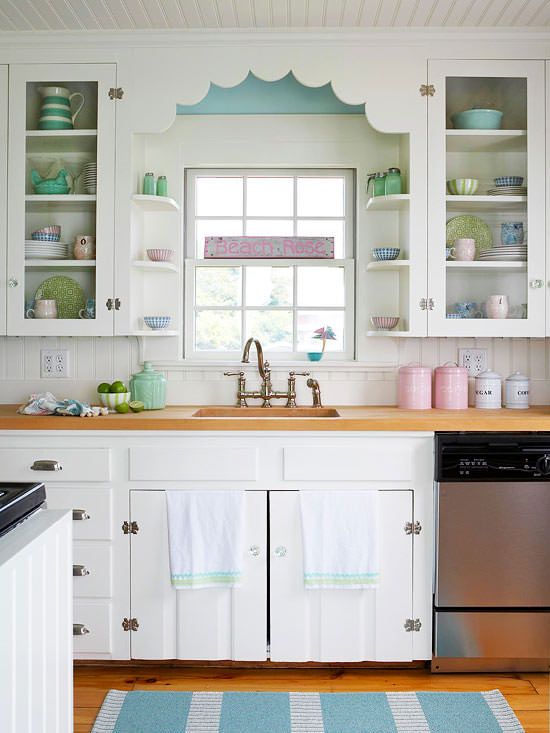 Antique kitchen cabinets
According to HGTV, adding retro kitchen cabinets to a kitchen can give a "sleek, classic-but-contemporary" feel to a kitchen. To achieve a "futuristic" retro ambiance, HGTV suggests aiming for kitchen cabinets styled to resemble 1950s post-war American kitchens. Think: The Jetsons.
There are several interesting elements indicative of this era; decor that is sleek with "retro-futuristic angles and exaggerated curves of space-age design" using glossy colours in bright reds or greens. To avoid the Christmas tree effect when remodelling the kitchen with this theme, choose one or the other. Red is brighter and bolder, but green can feel calm.
Unlike a space-age kitchen, a remodelling project that takes inspiration from the 1940s should have all white kitchen cabinetry. If there are glass panels in the cabinets, everything should remain tidy, as everyone will be able to see the clutter. To complement the cabinets, you might want to include linoleum countertops in black—HGTV says that was the number one colour back in the 1940s in America. Conversely, countertop edging should be metallic.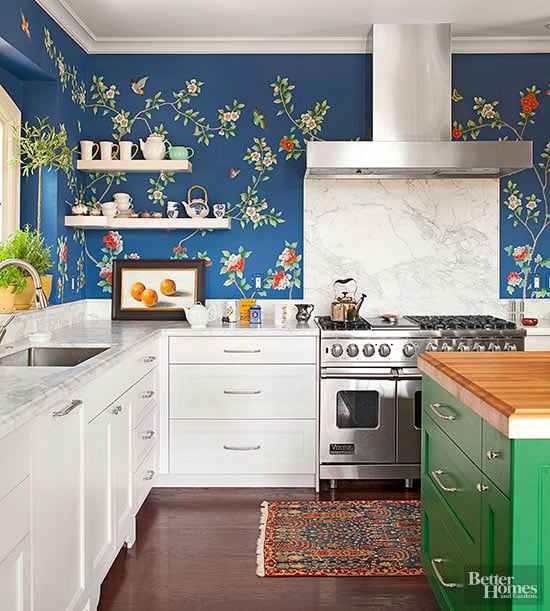 Walls from way back when
Want to go a decade earlier and create a 1940s-style kitchen? Heed some tips from Retro Renovation: first and foremost, look for vintage wallpaper, perhaps in a flower pattern, will emit a 1940s vibe. Polka dots will complete a vintage kitchen look for those inspired by the '50s, and bold, busy prints for those looking to take a hint from '60s décor.
If it is hard to source from local hardware or wallpaper stores, look online to find the right wallpaper. Be sure to ask for a sample if possible. You'll want to see how it will work with lighting, countertop materials and your appliances.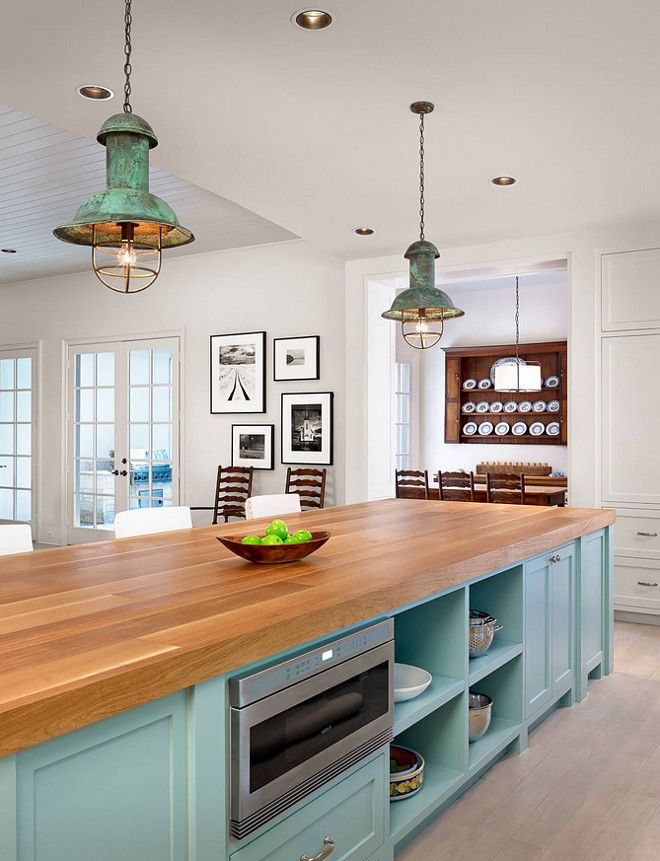 Classic lighting
Vintage-style kitchen lighting can be tricky to come by, as it's not usually found at just any lighting store. However, adding some vintage lighting to your kitchen may be well worth it to complete the vintage kitchen vibe. Vintage lighting will add some personality to your modern home or help you complete a historic restoration.
Try taking inspiration from a 1960s kitchen by pairing white sphere lights with white cabinets, white backsplash, and white appliances, Houzz suggests.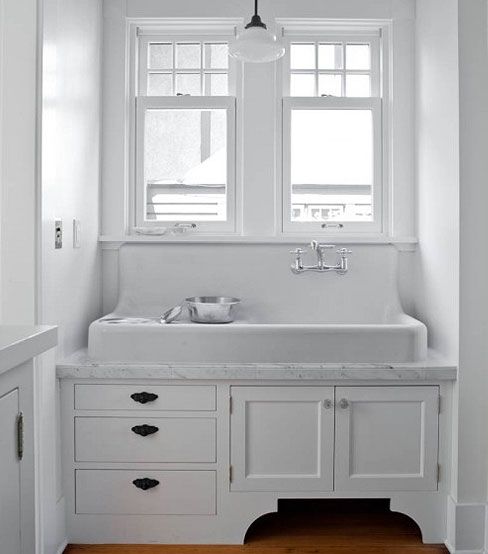 Timeless sinks
Many of the first wet sinks, like dry sinks, were lined with metal, Old House Online says. Copper and nickel silver were two of the earliest available materials for kitchen sinks. So, when looking for vintage sinks, consider these unique metal lined sinks.
Other vintage sink materials to incorporate into your home are stone and ceramic. Today's very popular apron-front farmhouse sink copies the shape of stone sinks made decades ago.
While you may be able to find a salvaged slate sink, vintage sinks may have cracks from years of exposure to the elements hiding. And, in most cases, you'll need to have your cabinets custom built in order to accommodate vintage sink sizes. Whether you salvage a truly vintage sink or just purchase a new one with the same look, vintage farmhouse kitchen sinks are a timeless kitchen staple.
For a '20s feel, choose a stainless steel sink for your kitchen and include a metal backsplash. The earliest metal sinks often had backsplashes of metal as well, according to Old House Online.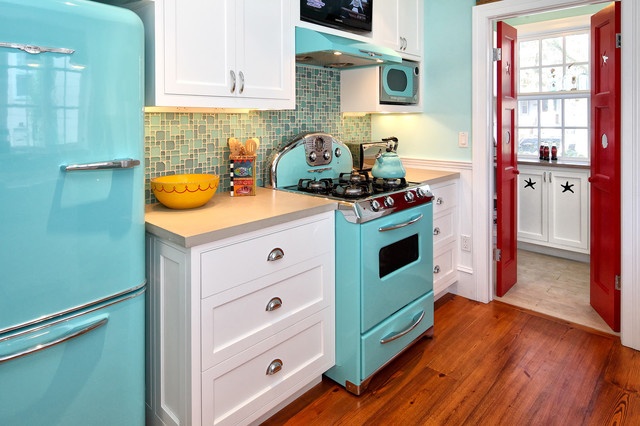 Vintage kitchen utensils & appliances
Take your appliances and utensils back in time for a vintage kitchen look by including a vintage stove. Not only are vintage stoves an attractive feature to include in your kitchen, but they also will likely come with multiple divided compartments for storage. You can never have enough storage space in the kitchen!
Additionally, colourful kitchen appliances were all the rage at one point in time. Mid-century kitchens sported a colourful assortment of appliances, such as mint-coloured refrigerators. Instead of today's classic stainless steel fridge, go for something more fun and colourful when creating a vintage kitchen. Vintage appliances such as a '50s-style Smeg fridge also comes with the bonus of being smaller in size, therefore giving you back some crucial kitchen space especially if you have a small kitchen.
Along with your new appliances, incorporate colourful utensils, including bakeware and storage containers. These were often seen in mid-century kitchens.
---
For more kitchen and bath inspiration, head to a Vague & Vogue showroom, and chat with one of our consultants. They'll be able to help you find all the kitchen and bath essentials you need to complete your home's unique look.