Are you looking for a simple bathroom or a luxurious bathroom? How about the materials you'll use—do they need to be all natural? What about cost—are you looking for the best bang for your buck or the best quality on the market?
There are plenty of factors to consider when renovating a bathroom and especially when considering flooring. With lots of options available for colours, styles, and materials, the decision can be tough. For a better idea about what to choose for the flooring in your bathroom, check out our bathroom flooring guide below.
5 Best Bathroom Flooring Materials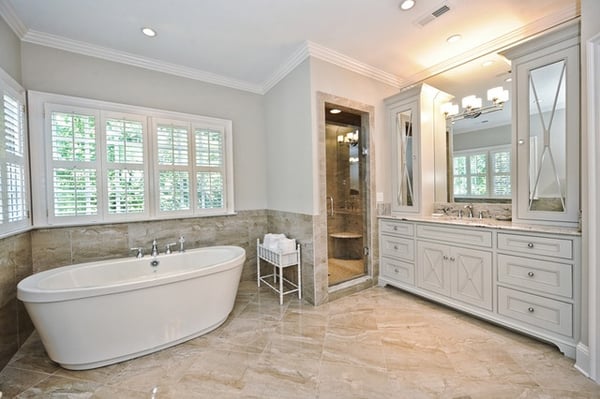 1. Porcelain Tile
Bathroom tiles, whether porcelain tile or ceramic tile, are one of the best options for bathroom flooring. Porcelain is waterproof and cost-effective, like vinyl flooring, while also being stylish, like wood flooring.
Porcelain is part of the ceramic tile family, with the only minor difference being the water absorption rate of the two materials, The Spruce says. According to The Spruce, the Porcelain Tile Certification Agency (PTCA) uses the water absorption rate to determine and certify types of tile as "porcelain." Tile that has an absorption rate of 0.5% or less can be certified as porcelain.
Consider what you use your bathroom for before you opt for porcelain tiles. There is less of a need to install porcelain tiles in a bathroom without a bathtub or shower. So if you're outfitting a powder room, another flooring material may be better suited to your needs.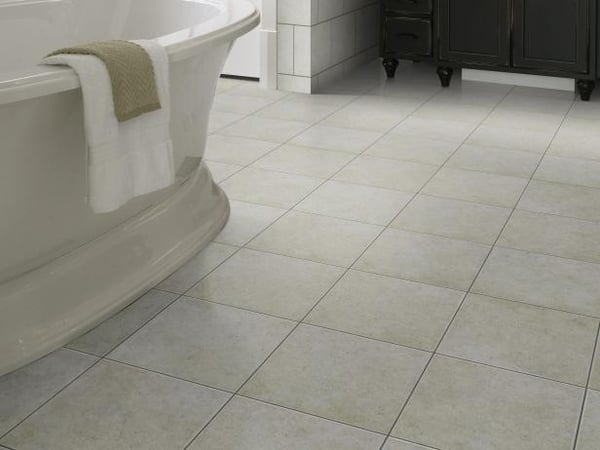 2. Ceramic Tile
Ceramic bathroom floor tiles come in many shapes, sizes, and colours to match any bathroom colour scheme or décor. With the many different options of ceramic tiles available, you can easily create the exact flooring that you're looking for. In fact, there are even options on the market of ceramic tile that look like wood or stone.
An advantage of ceramic tiling in a bathroom is that smaller mosaic tiles are pre-mounted on plastic mesh sheets. This means you won't have to individually set each tile, and with tinted grout, you can get as creative as you want, The Spruce suggests.
Unfortunately, like stone, tile is cold, which can be an unappealing factor for some homeowners. However, radiant or heated tile is available and can be laid under the tile to keep it warmer. Another disadvantage of ceramic tile is that wet tile is slippery, and can become a safety hazard. Texturing the tile will help solve that problem, and using smaller tiles helps to prevent as much of a slippery scene, as well as the extra grout, used acts as a non-skid surface.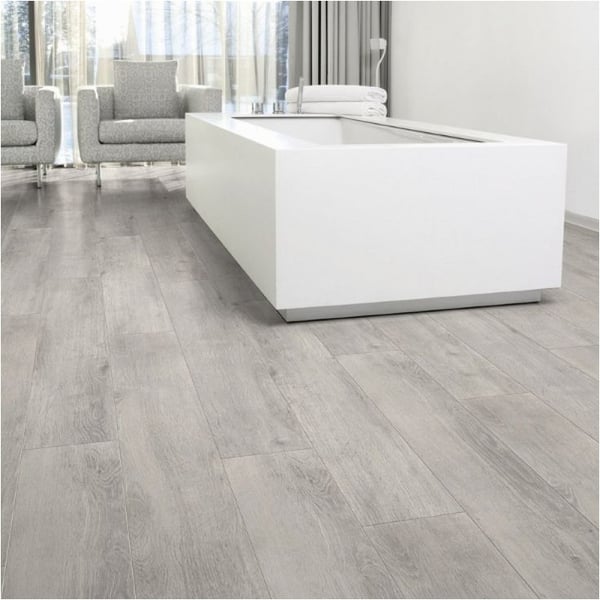 3. Laminate Flooring
Though laminate flooring is made of aggregated wood particles that are subjected to high pressure to form sheets, laminate flooring in a bathroom is a much better choice than solid hardwood flooring in a bathroom. On top of the laminate sheets is a clear, strong coat called the wear layer, The Spruce says.
Laminate flooring can work well in a bathroom if you take the right precautions to protect the wood base of the laminate flooring. Because laminate has a wood chip base, it shouldn't have contact with moisture. If this happens, the flooring will expand and bubble, and it will need to be torn out and replaced.
To prevent this from happening, look for a high-quality waterproof laminate and hire professional flooring installers. This will give you the peace of mind to use your bathroom without worrying about ruining your floors.
However, a great advantage of laminate flooring in bathrooms is that it is easy to clean.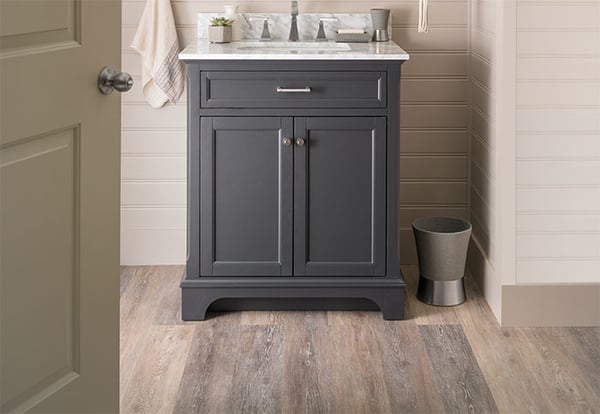 4. Vinyl
Vinyl flooring is ideal for a simple bathroom, as it comes in a large selection of colours and patterns and is priced reasonably. According to DIY Network, you can find vinyl flooring for about $1 to $2 per square foot at home improvement centers and have it professionally installed for an additional $1 to $3 per square foot. However, most vinyl flooring is easy to install, and a task you could take on yourself, saving you some money.
While sheet vinyl is a great option for bathroom flooring, avoid vinyl tiles for bathroom tiles. The seams present with vinyl tiles allows water to make its way to the subfloor and isn't ideal for a bathroom where water will be splashing and making its way to the floor. An additional disadvantage of vinyl flooring is that gapped and improperly laid seams will mess up your floors. According to The Spruce, "vinyl flooring is only as good as its seams."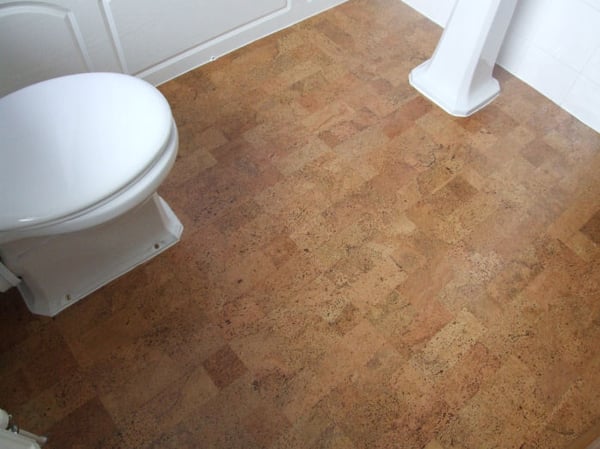 5. Cork
Lastly, best known for its sustainability and comfort, cork flooring is an easy-to-install bathroom flooring that comes in many colours and patterns. Cork flooring is made from the bark of the cork oak, which is native to the Mediterranean regions of southern Europe and South Africa, Build Direct says. Because cork is both natural and sustainable, it's also non-toxic and is likely the best material to use for indoor air quality, Build Direct suggests.
On average, cork flooring ranges from $3 to $12 per square foot. Cork flooring can be easy to install and is a practical do-it-yourself project. However, a professional flooring installer will have the know-how to seal your floors properly. After all, you don't want to forgo a professional installation and end up with poorly sealed floors. According to Houzz, professional cork flooring installation can cost about $3 to $5 per square foot.
---
For more bathroom inspiration, head to your local Vague & Vogue showroom. Here, you can chat with our industry professionals to determine the right features and fixtures for your bathroom.